ABC is a popular American broadcasting TV network owned by The Walt Disney Company. It offers a wide range of programming, including shows like The 2023 ESPYs and Gold Diggers. You can watch ABC on a cable subscription or stream it live on your computer or mobile device through various streaming providers.
If you're looking to try out ABC without committing to a monthly subscription, you can take advantage of the ABC free trial offered by several streaming services.
Let's dive in.
Obtaining an ABC Free Trial
ABC provides a vast array of programs through its cable subscription. By subscribing to this service, you gain access to the ABC app, which allows you to stream the network's content live. Simply download and install the ABC app on your mobile device or computer, and you're all set to enjoy ABC for free.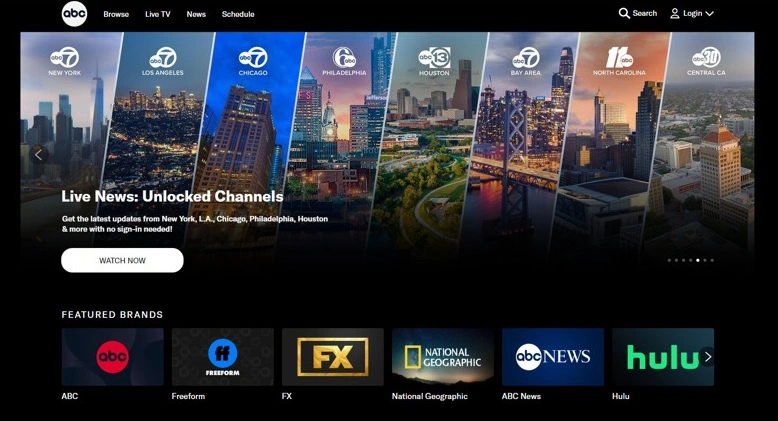 However, if you don't have a cable subscription, don't worry! There are alternative methods to enjoy an ABC free trial. One option is to subscribe to different streaming providers that include ABC content in their packages. Once you've subscribed to such a service, you can easily locate the "ABC app" on your streaming device and download it.
Now, let's explore the various ways you can access the ABC free live stream on different devices.
Exploring ABC Free Trial on DIRECTV Stream
DIRECTV Stream, a popular streaming service, offers on-demand viewing of your favorite shows and movies. By subscribing to their plans, you can gain access to the ABC app and enjoy its content, even outside the USA. Their affordable "Entertainment" package, priced at US$69.99/month, includes Cable TV and access to the ABC app.
From The Good Doctor Season 6 to The Wonders Years Season 2, Judge Steve Harvey Season 2 to American Idol Season 21, you can indulge in a wide range of captivating shows.
Unlocking Free Streaming of ABC: A Step-by-Step Process
To stream ABC for free and initiate your trial period, begin by creating an account on the official DIRECTV Stream website. During this process, you will need to select the desired package of your choice.
Once your account is set up, you can effortlessly enjoy a wide range of your favorite ABC shows and movies. Immerse yourself in captivating content such as The American Rescue Dog Show, The Bachelor Season 27, and thrilling sports events like NFL Pro Bowl 2023, The Prank Panel, and X Games Aspen 2023, all accessible through the user-friendly app.
DIRECTV Stream extends a generous 5-day free trial exclusively for new customers. Take advantage of this opportunity to explore the exciting world of ABC streaming without any financial commitment.
Exploring ABC Free Trial on Hulu Live TV
If you haven't subscribed to Hulu TV yet, you're missing out on a plethora of incredible content. Hulu offers a seamless streaming experience with both live and on-demand options, including access to ABC stream and various other channels typically found on cable TV. By obtaining Hulu outside the USA, you can enjoy ABC content from anywhere.
With a Hulu + Live TV subscription, you gain access to a host of impressive features. These include unlimited cloud DVR storage, two-screen simultaneous viewing, the convenience of six customizable profiles, and full access to Hulu's extensive streaming library. The package starts at just US$6.99 per month, with the added benefit of a 30-day free trial period.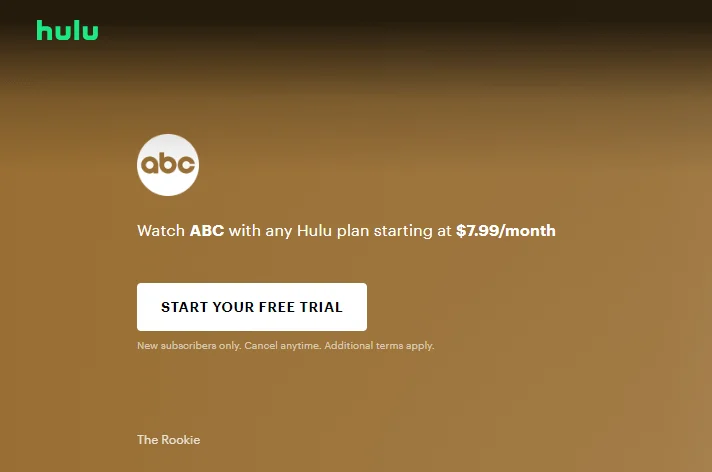 This means you can relish ABC Stream and a multitude of other channels for an entire month without any charges. Immerse yourself in the world of Hulu on platforms such as Amazon Fire TV, Roku, Android, iOS, and more.
Exploring ABC Free Trial on fuboTV
As one of the fastest-growing streaming services in the US, fuboTV has achieved an impressive 97% coverage across the nation. Notably, it brings ABC TV to at least 184 out of 210 television markets. Offering an extensive range of content, including both live and on-demand shows, ABC can be accessed effortlessly through the fuboTV app.
With fuboTV, you can indulge in over 100 channels, enjoy simultaneous streaming on three screens, and take advantage of 250 hours of cloud DVR storage. Plus, the service seamlessly integrates with popular platforms like Chromecast, FireTV, Roku, and Apple TV.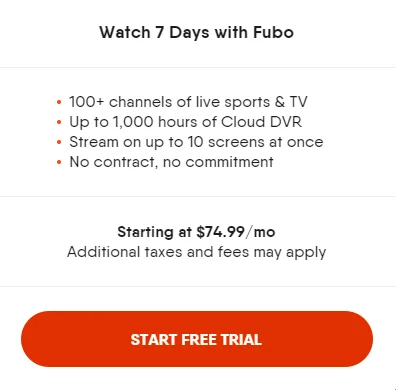 Starting at just US$69.99 per month, fuboTV provides a free trial period of up to seven days. This offers an excellent opportunity to explore ABC content and a wide selection of channels. Make the most of this opportunity and immerse yourself in the fuboTV experience today.
Exploring ABC Free Trial on YouTube TV
Are you already a subscriber to YouTube TV? If so, you're in luck! Gain access to the ABC free trial and start streaming ABC content online without any cost. YouTube TV is a comprehensive streaming service that offers both live-streaming and on-demand content from a vast selection of over 70 networks, including ABC.
With a YouTube TV subscription, you'll enjoy an extensive range of features, such as access to over 70 channels, including ABC, cloud DVR storage, simultaneous streaming on three devices, and on-demand content through YouTube TV.
You can access YouTube TV outside of the USA using iOS, Android, Fire TV, Apple TV, and Chromecast. Additionally, ABC is also accessible on Roku devices.
YouTube TV's subscription plan is priced at US$64.99 per month, and it comes with a generous 7-day free trial. This allows you to indulge in ABC and other content on the platform for an entire week before any charges are applied.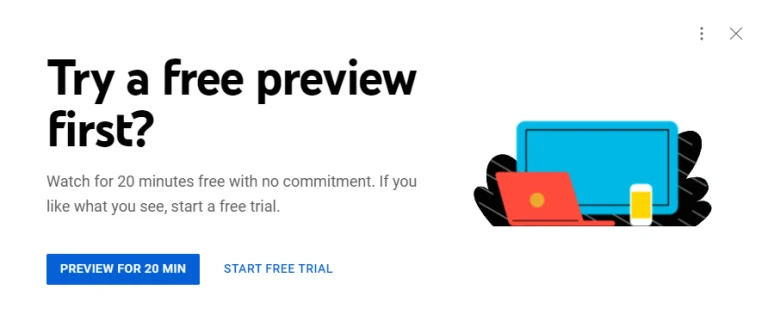 Should you decide to discontinue the service, remember that you have the flexibility to cancel your subscription at any time during the trial period without incurring any charges.
Discover Must-Watch Content on ABC: Unveiling the Best and Most Popular Shows
Don't miss out on the incredible lineup of content worth watching on ABC. Here are some of the top picks:
FAQs
Is a Free Trial Available for ABC?
No, ABC TV itself does not offer a free trial since it operates primarily through cable providers. However, you can still access ABC content through various streaming services that provide their own free trials. Two notable examples are AT&T TV Now and Hulu TV.
Can I watch ABC on Netflix?

No. But there are a lot of ABC shows and movies available on Netflix.
Is ABC Available for Free on Hulu?
No, ABC is not available for free on Hulu. However, you can access ABC content through Hulu TV, which is a separate subscription. Hulu + Live TV is priced at US$69.99 per month, but before committing to the service, you can take advantage of a generous 30-day free trial period.
What are the Options for Watching ABC Live for Free?
Fortunately, there are several avenues available to watch ABC live for free. If you reside in the suburbs, one possibility is using an antenna to pick up ABC's live signal without any subscription fees. Additionally, various streaming services include ABC live streaming as part of their package, providing another convenient option for accessing ABC content at no cost.
Conclusion
In conclusion, there are various methods to make the most of the ABC free trial and enjoy its content. One option is to access ABC programming for free by utilizing certain streaming services that provide a trial period. Examples of such services include AT&T TV Now, Hulu TV, and fuboTV.
Alternatively, you can watch ABC live at no cost by using an antenna or subscribing to streaming services that include live ABC streaming in their packages. To take advantage of the ABC live free trial, be sure to follow the guidelines mentioned above.