Streaming services have become an integral part of our entertainment landscape, offering a vast array of movies, TV shows, and exclusive content. Stan, a popular Australian streaming platform, has gained significant popularity worldwide. If you're in the USA and interested in exploring Stan, you'll be delighted to know that you can avail yourself of a free trial to experience its offerings.
In this comprehensive guide, we will walk you through the process of obtaining a Stan free trial in 2023.
Overview of Stan
Stan is a popular streaming platform that originated in Australia. Launched in January 2015, it quickly gained recognition as a leading streaming service in the country. Stan is a joint venture between Nine Entertainment Co. and Fairfax Media, two prominent media companies in Australia.
The platform was created to provide a wide range of on-demand content, including movies, TV shows, and exclusive productions. Over the years, Stan has established itself as a go-to destination for entertainment, offering an extensive library of both international and Australian content. With partnerships with major networks and production companies, Stan continues to expand its offerings, delivering a diverse selection of critically acclaimed series and captivating films to its subscribers.
Why Stan?
Stan sets itself apart with its unique content library, featuring highly regarded TV series and original productions. Collaborations with prominent networks like Showtime and Starz have enabled the inclusion of popular shows such as "Billions" and "Power" on the platform. Furthermore, Stan offers an extensive collection of movies across different genres and time periods, guaranteeing a constant stream of fresh discoveries.
Overcoming Geo-Restrictions
Although Stan is primarily accessible in Australia, individuals in the USA can still enjoy the service by utilizing a Virtual Private Network (VPN). Through a VPN, you can hide your IP address and connect to an Australian server, creating the illusion of browsing from within Australia. By selecting a trustworthy VPN provider, you can gain access to Stan's extensive content library and make the most of the free trial.
How to Sign Up for Stan to Get a Free Trial in the USA
To initiate your 30-day free trial on Stan in the USA, there is no requirement for a specific code, simply follow these steps:
1. Subscribe to a reputable VPN service that offers Australian server locations.
2. visit the official Stan website and locate the "Start your free trial" option at the top right corner. Enter your email address in the designated field on the right side of the homepage, specifically under the "Stan 30 days free trial" section, and click on "Start your free trial."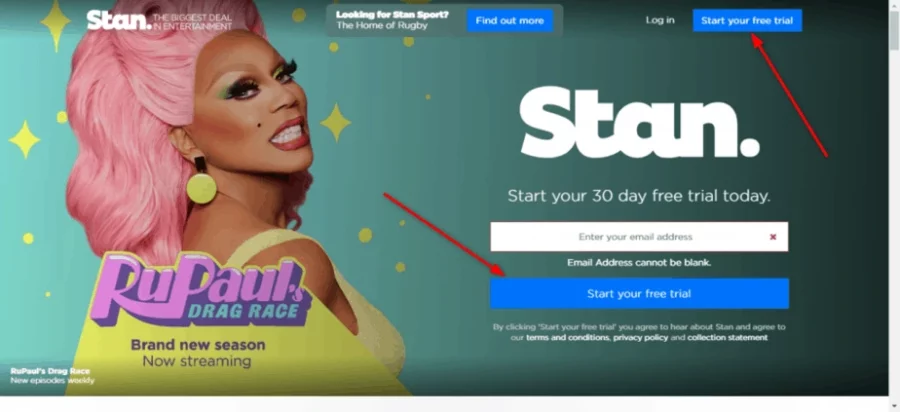 3. A pop-up window will appear, offering you the opportunity to select your preferred Stan plan. Choose the plan that aligns with your preferences and click on the "Continue" button below. The premium plan is recommended to fully experience all of Stan's features, and it is pre-selected.
Enter your personal details, provide your credit card information, accept the terms and conditions, and click on "Start Watching."
Once you have successfully created your Stan account, you will be prompted to either add 3 sports or select "No Thanks" to begin watching.
You will receive a congratulatory message confirming the successful setup of your account.
Additionally, an option to download the Stan app for Android and iOS will appear, giving you the choice to either read instructions on how to set up your device or start watching immediately.
How Much Stan Subscription Costs?
Once the 30-day free trial period concludes, the pricing for Stan's subscription plans will come into effect. If you opt for the premium plan, you will be charged 6.90 USD (10 AUD) per month. The basic plan is available at a cost of 9.65 USD (14 AUD) per month, while the standard plan is priced at 13.10 USD (19 AUD) per month. It's important to note that the basic plan does not support HD and 4K streaming, whereas the other plans provide access to these enhanced viewing options.
| | | | | | |
| --- | --- | --- | --- | --- | --- |
| Plans | Cost per month | Resolution | | Free Trial | No. of screens |
| Basic | 6.90 USD (10 AUD) | SD | | Available | 1 |
| Standard | 9.65 USD (14 AUD) | HD | | Available | 3 |
| Premium | 13.10 USD (19 AUD) | Up to 4K | | Available | 4 |
You can cancel your Stan subscription anytime without extra charges.
Stan Gift Cards
To activate your Stan account using Stan gift cards, you can follow the steps outlined below. However, please note that before proceeding, you will need to purchase a Stan gift card from a relevant store. These gift cards are available at various retailers and typically range in price from $30 to $50.
Sign in to your Stan account
Navigate to your account profile and select "Manage Account."
Scroll down to the bottom of the page until you reach the section titled "Redeem Stan Gift or Voucher."
Enter the code from your Gift Card or Voucher in the designated field.
Click on the "Redeem" button to initiate the redemption process.
Once completed, the Stan Gift Card or Voucher code will be successfully redeemed, and the corresponding value will be added to your account.
Is Stan Free Trial Worth It?
Deciding if the Stan free trial is worth your while is subjective and depends on your personal streaming preferences and habits. The free trial provides an opportunity to delve into Stan's extensive content library, offering a glimpse into its diverse range of shows, movies, and original productions. With a focus on exclusive content, Stan showcases popular TV series like "Billions" and "Power," which are sourced from major networks such as Showtime and Starz.
Additionally, the platform boasts an extensive collection of movies like
"Relic" and "Pulp Fiction" spanning various genres and time periods, ensuring there's something for everyone's taste. By taking advantage of the free trial, you can explore Stan's offerings, assess its user-friendly interface, and determine if its content aligns with your entertainment preferences.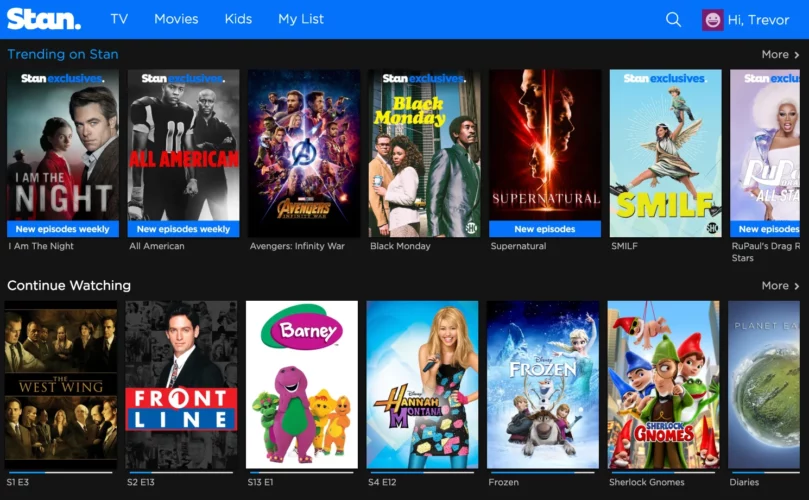 FAQs:
Can I use a free VPN to access Stan's free trial?
It is not recommended to rely on free VPNs as they often have limitations, such as slow speeds and unreliable connections. Opting for a reputable paid VPN service ensures a better streaming experience.
Can I share my Stan account with others during the free trial?
Yes, Stan allows simultaneous streaming on multiple devices, so you can share your account with family members or friends within the allowed limit.
What happens if I forget to cancel my Stan subscription after the free trial?
If you don't cancel before the trial period ends, your payment method will be charged based on the chosen subscription plan. It is important to set a reminder or cancel in advance to avoid unexpected charges.
Conclusion

If you're in the USA, acquiring a Stan free trial presents an excellent chance to delve into an extensive collection of movies, TV shows, and exclusive content. By using a VPN and following the provided instructions, you can partake in the Stan free trial regardless of your geographical location. Seize this opportunity to immerse yourself in Stan's diverse range of offerings, explore its user-friendly interface, and discover the unique content it has to offer.
Whether you ultimately opt to continue with a subscription or explore alternative streaming services, the Stan free trial serves as a valuable introduction to the captivating world of Australian entertainment.