In a highly anticipated film titled 'Shooting Stars,' which premieres on Peacock, viewers will be treated to a captivating portrayal of the high school years of a legendary group of championship basketball players from Akron.
The story revolves around the Fab Five – Sian Cotton, LeBron James, Dru Joyce III, Willie McGee, and Romeo Travis – who not only achieved three state championships and one national championship but also went on to become local heroes and legends.
The talented actors who bring these iconic figures to life in Shooting Stars have been unveiled, adding even more excitement to this must-see movie. Marquis "Mookie" Cook, a promising Oregon basketball recruit, takes on the role of LeBron James. Cook's resemblance to the basketball prodigy, coupled with his own stellar skills as a five-star recruit, make him a fitting choice for the portrayal.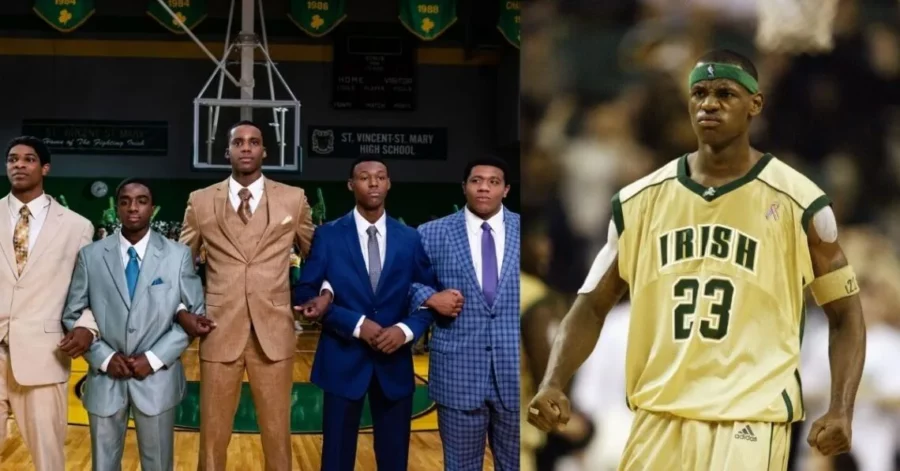 Joining the cast is Caleb McLaughlin, known for his role in "Stranger Things," who skillfully portrays Dru Joyce III in the film. McLaughlin's challenge was not just about delivering lines or nailing basketball scenes, but also capturing the enduring bond shared by LeBron James and his friends: Sian Cotton (played by Khalil Everage), Romeo Travis (played by Sterling "Scoot" Henderson), and Willie McGee (played by Avery S. Wills).
Director Chris Robinson has crafted Shooting Stars as an ensemble piece, highlighting the deep friendship and teamwork of the Fab Five. While the film delves into LeBron James' transformative years at St. Vincent-St.
Mary High School, it goes beyond being a mere portrayal of one man's journey. The story focuses on the camaraderie that propelled them to win multiple Ohio state high school basketball championships and a prestigious USA Today national title.