If you're in the US and looking to cancel your Sky Go Extra subscription, there are several convenient methods available.
To cancel your Sky Go Extra subscription, log into your Sky TV account and choose from the available cancellation methods.
4 Easy Methods to Cancel Sky Go Extra
When considering canceling your Sky Go Extra subscription, there are two scenarios to keep in mind: canceling before your contract ends or canceling after the contract has expired.
If your contract has already ended, you can leave without any penalty by providing a 31-day notice.
However, if you're still within the contract period, Sky will likely require a termination fee. The fee will depend on factors such as your outstanding balance, previous payments, and the specific channels you've subscribed to.
Now, let's delve into the detailed methods for canceling Sky Go Extra!
Method 01: Canceling Over the Phone
To cancel Sky Go Extra swiftly, the fastest method is to contact their support helpline. Dial +44 0344 241 1653 and provide the registered phone number associated with your Sky account. You will receive an email containing a cancellation code.
Within a few seconds, the operator will inquire about the reason for your call. Simply state, "Cancel Sky Go" at this point.
If you wait a little longer, you will hear a list of additional options. Press 1 as a current Sky customer, then press 6 to decrease your Sky subscription, and finally, press 2 to cancel a specific part of your subscription. Following this, you will be connected to a representative.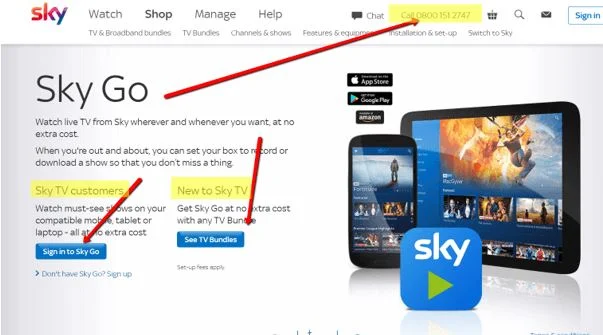 However, please note that it may take up to 31 days for your subscription to be canceled after speaking with the agent. A helpful tip is to call them 31 days prior to your subscription renewal date to cancel your package plan. Otherwise, they may charge an additional fee of US$6.22 (GB£5) before canceling the subscription the following month.
Method 02: Using the Live Chat Portal
If you prefer to cancel Sky Go Extra without lengthy phone conversations, you have the option to do so online. Take advantage of Sky's online live chat feature, which can be accessed on your PC or smartphone.
Simply click on the live chat button, and within seconds, you'll be connected with a customer support representative. The live chat option is available seven days a week from 8:30 AM to 8 PM GMT.
Once the chat begins, inform the agent that you wish to cancel your subscription. After the agent cancels your membership, you will receive a notification regarding the end date of your service.
Method 03: Canceling via Email
Another option is to send an email to Sky Go Extra customer support at [email protected]. Include your name, account number, address, postcode, and phone number in the email, clearly stating your intention to cancel your account. Sky will respond within five days. However, note that emailing may result in a delayed notice period, so consider following up with a phone call for faster processing of your cancellation request.
Method 04: Canceling Subscription Before Contract Ends
Review your contract to ascertain its current status and the minimum term specified. Additionally, check if there are any conditions outlined in the contract that permit early termination.
Customers opting for early contract cancellation will incur a fee that varies based on individual circumstances. The early termination fee will be determined by considering the remaining duration of your contract and the portion of services already paid for.
Example of charges calculation
Suppose a Sky broadband customer decides to cancel their subscription before the completion of a 12-month contract. In this case, they would incur an additional charge of US$55.28 per month (GB£44.25 per month) compared to a new customer who pays the regular Sky Go price of US$12.49 per month (GB£10 per month) for the same duration after signing up for the company's unlimited service.
| | |
| --- | --- |
| Plan | Prices |
| Broadband Unlimited | US$8.63 (GB£6.91 x 3 – for May, June, and July) + US$8.63 (GB£6.91 / 30 x 15 -for April 16 – 30) = US$30.20 (GB£24.18) |
| Line Rental | US$7.13 (GB£5.71 x 3 – for May, June, and July) + US$7.13 (GB£5.71 / 30 x 15 -for April 16 – 30) = US$24.97 (GB£19.99) |
Alternative to Sky Go in US
After canceling Sky Go Extra, you may still have Sky TV, but you might find the limited content on the streaming service disappointing.
Fortunately, there are alternative streaming services in the US that offer a wider range of content and are considered superior to Sky Go Extra. Some of these options include:
Netflix
Hulu
HBO Max
Peacock TV
Amazon Prime Video
Apple TV+
Disney+
Hayu
Pluto TV
FAQs
How to cancel Sky Go Extra free trial in US?
In case you have a change of heart before your Free Trial period ends, you can cancel by visiting the My Account page and choosing the option to Cancel Subscription.
How do I cancel part of my Sky subscription from US?
To partially cancel your Sky subscription, you will need to get in touch with Sky's customer support team.
What's the difference between Sky Go and Sky Go Extra?
ky Go Extra offers enhanced features that go beyond the basic Sky Go app. With Sky Go Extra, you can enjoy benefits like offline content downloads, registering up to four devices, simultaneous streaming on two devices, and the ability to watch Sky TV on gaming consoles such as PS4 or Xbox One.
Conclusion
Sky Go Extra is a subscription service that allows you to stream Sky content on two devices simultaneously. You have the flexibility to download and watch SKY GO programs at a later time. If you decide to cancel your Sky Go Extra subscription in the US, you can do so hassle-free.
This article provides a step-by-step guide on canceling Sky Go Extra online in the US, ensuring a smooth cancellation process for your subscription.
If you have any additional questions, feel free to reach out using the comment box below.