Whether it's the intense battles on the football field, the nail-biting finishes in cricket matches, or the lightning-fast laps on the race track, there's something magical about witnessing the triumphs and tribulations of our favorite athletes. Sky Sports is an unrivaled gateway for those who crave a front-row seat to this sporting extravaganza. But before diving headfirst into the world of breathtaking goals and performances, a question lingers on every sports lover's mind: How much are Sky Sports subscription plans worth?
Without wasting any time, let's put that question, and many others related to it, at rest!
How Much is Sky Sports Subscription Plans Price?
Sky Sports subscription plans unveil a range of options catering to sports lovers. With various choices available on the website, it's essential to understand the costs and benefits associated with each package. This allows you to make an informed decision that suits your viewing preferences.
Starting at US$ 56.14 monthly for 18 months, Sky Sports offers a combination of Sky TV, Sky Sports channels, and even a Netflix add-on. However, a setup cost of US$ 24.43 is required to start.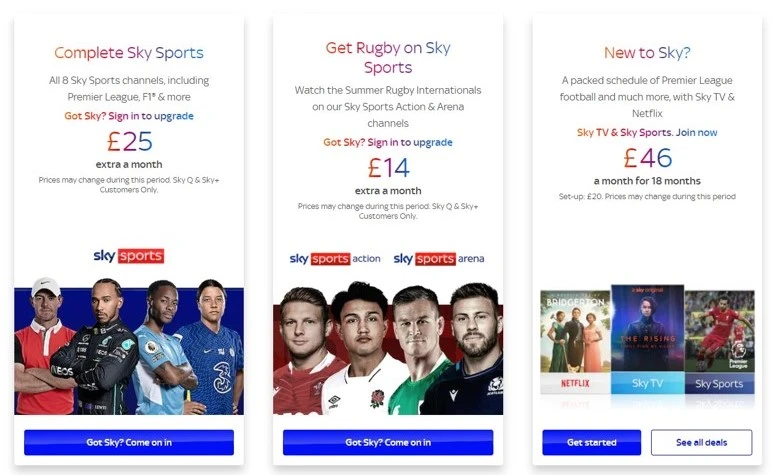 The total price of your Sky Sports subscription ultimately depends on how you customize your package by incorporating other Sky add-ons and tailoring the experience to your liking.
Also, other TV providers like BT offer their own versions of Sky Sports. Exploring alternative options can be beneficial in terms of finding the perfect fit for your viewing needs while considering factors such as pricing, available channels, and additional perks. Plus, NOW also provides daily and monthly memberships for Sky Sports.
How much is Sky Sports Subscription Plan with BT?
With BT's Big Sport package, priced at approximately US $41 monthly, you can bask in Sky Sports channels. This option presents a cost-effective way to enjoy a wide range of sporting events, ensuring you never miss a moment of the action.
If you're seeking a more comprehensive sports experience, BT's VIP package might be the ideal choice. This premium package costs around US $90.47 monthly and grants access to many channels, including the coveted Sky Sports offerings. By opting for the VIP package, you unlock an extensive selection of sporting content, from thrilling live matches to exclusive interviews and in-depth analysis.
How much is Sky Sports Subscription Plan with NOW Tv?
Unlocking the world of Sky Sports Subscription Plans doesn't necessarily require a long-term commitment. NOW TV, a popular streaming service offers flexible options to enjoy thrilling sporting action at your convenience.
To access Sky Sports directly through NOW, you have two primary subscription choices: the Day Membership and the Month Membership.
With the Day Membership, priced at approximately US$ 14.66, you can indulge in a full day of immersive sporting content. This option is perfect for catching a specific match, tournament, or sporting event without needing a long-term commitment.
For a more extended and comprehensive sports viewing experience, the Month Membership is the way to go. This subscription costs around US$ 41.54 per month and grants unlimited access to Sky Sports channels for an entire month. It also offers a 7-day free trial for you to test the waters. Not to forget, this Sky Sports subscription plan with Now allows 3 simultaneous screens to be used.
So, there's no way you'll ever miss a moment of adrenaline-fueled action with this one!
What is the Cheapest Sky Sports Subscription Plan?
If you're looking for an affordable way to avail a Sky Sports subscription, NOW TV's Day Membership provides a cost-effective solution. With a mere price tag of US$ 14.65, this membership grants you access to a staggering 11 Sky Sports channels for 24 hours. The best part? No long-term contracts are involved, so you can cancel your subscription whenever desired.
The Day Membership option is particularly advantageous if you want to catch a specific live event without committing to a monthly subscription. However, if you plan to watch Sky Sports content regularly, the cost of using the Day Membership repeatedly may add up compared to other subscription options.
For existing Sky Go subscribers, there's even more good news. Sky Sports is available at a lower cost for those who already have a Sky Go subscription. So, if you've already subscribed to Sky Go, you can enjoy the benefits of accessing Sky Sports at a discounted rate.
What Channels Can You Watch with Sky Sports Subscription Plan?
When you subscribe to a Sky Sports package, you unlock a treasure of sports content. From the high-speed excitement of Formula 1 races to the gripping live coverage of cricket test matches and the electrifying atmosphere of horse racing tournaments, Sky Sports is a haven for sports enthusiasts. Here is what you can watch with a Sky Sports subscription!
| | |
| --- | --- |
| Channel | Description |
| Sky Sports Main Event | Showcases major live sporting events across multiple sports, including cricket, football, rugby, and more. |
| Sky Sports Cricket | Dedicated channel for domestic and international cricket, providing live scores and coverage of test matches. |
| Sky Sports Mix | Offers highlights from various top sporting events and tournaments worldwide. |
| Sky Sports Premier League | A dedicated channel for live coverage of Premier League football matches. |
| Sky Sports F1 | Provides the latest updates, news, and HD coverage of Formula 1 races. |
| Sky Sports News | Offers live coverage of various sports events, including racing, F1, boxing, rugby, golf, and football, along with the latest sports news. |
| Sky Sports Golf | Covers news, tournaments, and updates from golfing events, such as the Open Championship and US Open. |
| Sky Sports Football | Home to fixtures, scoreboards, live games, and the latest football news, including EFL games, Champions League, and global football coverage. |
| Sky Sports Arena | Dedicated channel for live basketball, cricket, racing, bowling, and videos from the channel. |
| Sky Sports Racing | A separate channel focused on horseracing updates, news, pictures, videos, and daily tips. |
| Sky Sports NFL | Specializes in National Football League (NFL) news and coverage. |
FAQs
Can I subscribe to Sky Sports only?
Sky Sports is only available as part of Sky TV. So, you'll have to buy the whole subscription to watch sports. However, NOW Tv allows you to be a Sky Sports subscriber without being a Sky TV user.
Where is Sky Sports available?
Sky Sports is available in UK and Ireland. But anyone outside these countries can easily access it through a robust VPN.
Can I watch Sky Sports without a monthly subscription?
Yes, NOW offers you the option to watch and pay for Sky Sports on a day-to-day basis.
Wrapping Up
So, there you have it; all you need to know about Sky Sports subscription plans!
The streaming service guarantees you stay connected to the sports you love, be it by comprehensively covering live cricket test matches and horse racing tournaments or capturing the excitement of Barclays Premier League and Sky Bet Football League games. You can easily access the content that sparks your passion with dedicated channels for each sport.
Additionally, the flexibility of Sky Sports subscription plans is a life-saver. It allows you to choose the duration and level of commitment that suits you best. With the convenience of a Day Membership through NOW, providing 24-hour access to Sky Sports, or the longer-term engagement of a monthly subscription, the streaming service accommodates your lifestyle.
Don't wait any longer – choose the subscription plan that suits your sporting passions!