Are you ready to dive into the streaming world but hesitant to commit without trying? Look no further – Hulu's got you covered! With a free trial of up to 30 days, you can explore a vast collection of TV shows, movies, and original content.
Whether in the US or beyond, this article will guide you through the simple steps to get Hulu's free trial, even without a credit card. Plus, we'll break down the different subscription plans, highlight cost-saving tips, and compare Hulu's trial offer with other streaming platforms. Get ready to embark on a journey of entertainment – let's dive in!
How Can I Get a Hulu Free Trial?
Getting started with Hulu's free trial is a breeze, whether you're located in US or beyond. Here's a step-by-step guide to help you enjoy Hulu's vast collection of TV shows, movies, and originals without any hassle:

Begin by heading over to Hulu's official website. This is where your journey to free entertainment begins.
Hulu offers a range of plans to cater to different preferences. Whether you want the ad-supported version, the ad-free experience, or even the Live TV package, select the plan that aligns with your streaming needs.
Fill in your essential details, such as your name, email address, password, and billing information. Remember, while you must provide your billing info, you won't be charged during the trial period.
Once you've completed the sign-up process, you can explore Hulu's extensive content library. Delve into your favourite TV shows, discover new movies, and enjoy Hulu Originals throughout the trial period without spending a dime.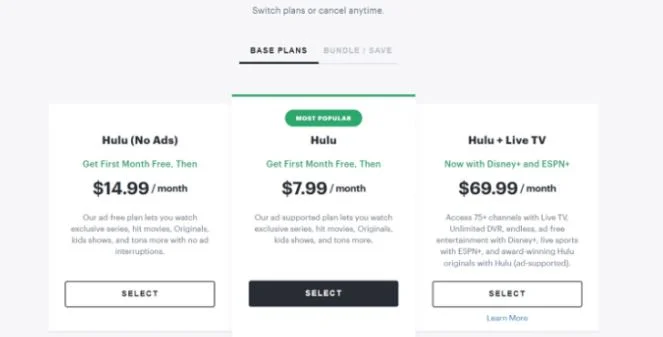 How Can I Get a Free Hulu Trial Without a Credit Card?
If you're aiming to enjoy Hulu's free trial without sharing your credit card information, you can easily do so by following these steps:
Start by navigating to Hulu's official website. Look for the "Start Your Free Trial" option to kick off the process.
Select the subscription package that suits your preferences. Hulu offers various plans to cater to your entertainment needs.
Visit websites like "donotpay.com" to generate a virtual credit card with randomised details. This virtual card can be used specifically for signing up.
Utilise your virtual credit card details to complete the Hulu sign-up process. This allows you to enjoy the free trial without sharing your credit card information.
How Much Does Hulu Cost? Different Plans & Bundles
Hulu provides a variety of plans and bundles to cater to different preferences. Here's a simple breakdown of the various plans, along with their costs:
| | | | |
| --- | --- | --- | --- |
| Plan | Price | Free Trial Length | Benefits |
| Hulu | $7.99/mo | 30 days | Access to on-demand library, ads included |
| Hulu (No Ads) | $14.99/mo | 30 days | Ad-free streaming, access to the library |
| Hulu + Live TV | $69.99/mo | Not available | Live TV channels, on-demand content |
| Hulu (No Ads) + Live TV | $82.99/mo | Not available | Ad-free streaming, live TV, on-demand content |
These plans offer a range of options to suit your preferences, from ad-supported streaming to ad-free experiences and even live TV access. Choose the plan that aligns with your entertainment needs.
Are There Any Coupons and Discounts for Hulu?
Hulu offers a range of discounts and promotional codes to make their services even more attractive. These discounts apply to Hulu's offerings, including packages, channels, and additional features like HBO Max.
Moreover, students can enjoy special discounts on ad-supported Hulu subscriptions, making it more accessible for those studying. So, watch for these discounts to save on your Hulu experience.
How Often Can You Do the Hulu Free Trial?
You're in luck! You can take advantage of the Hulu free trial as often as possible. Once your trial ends, you can cancel it and sign up again for another 30 days of free content access. This gives you ample opportunities to explore Hulu's offerings without any cost.
Do Amazon Prime Members Get Hulu for Free?
While Amazon Prime offers a wide range of benefits, including access to Prime Video's content library, it's important to note that Amazon Prime members do not automatically get Hulu for free. Hulu is a separate streaming service with subscription fees. So, if you're interested in Hulu's content, you must subscribe to it independently.
What Is the Cheapest Method to Continue Using Hulu After the Free Trial?
If you're looking for a budget-friendly way to continue enjoying Hulu after your free trial, consider opting for the Hulu (with ads) plan for a year. This subscription option costs around $79.99 annually, translating to a 16% savings compared to paying monthly. It's a smart way to get more value while enjoying your favourite shows and movies on Hulu.
What Can You Stream on Hulu with a Free Trial?
With a Hulu free trial, you'll have access to a diverse selection of content across popular TV shows, classic movies, and Hulu's original series. Best Shows like The Handmaid's Tale and The Dropout and best movies like Palm Spring are just a glimpse of what you can enjoy during your trial period. Hulu's library caters to a wide range of preferences, ensuring there's something for everyone to enjoy.
Comparison of Hulu Free Trial with Different Platforms
Regarding free trials, Hulu truly shines with its 30-day offering. This differentiates it from other platforms like Netflix and HBO Max, which don't provide free trials. Hulu's 30-day trial allows you to explore its content without cost. Here's a brief comparison:
FAQs
Is there a 30-day free trial for Hulu outside US?
Yes, Hulu offers a 30-day free trial for users within and outside US. It's an excellent opportunity to explore Hulu's content without any commitment.
Is Hulu offering a 1-year free trial outside US?
Hulu's free trial typically lasts 30 days, whether inside or outside US. There is no 1-year free trial being offered.
Why did Hulu charge me $1 for a free trial outside US?
Hulu might place a temporary $1 authorisation charge on your account to ensure your payment method is valid. This charge is refunded shortly and does not affect your overall payment.
Wrapping Up!
Exploring Hulu's offerings through its free trial is a great way to experience its wide range of content without any financial commitment. There's something for every viewer, with popular shows, classic movies, and Hulu originals available for streaming.
Unlike many other platforms, Hulu's generous 30-day free trial provides ample time to discover its extensive library. So why not dive in and maximise this opportunity to enjoy quality entertainment?