Are you a Roku user eagerly searching for the magical world of Disney? Well, we have some exciting news for you! In a long-awaited move, Roku finally announced Disney Plus to be available on their streaming platform, starting April 2023.
This meant Roku users could now dive into the enchanting universe of Disney with just a few clicks of their remote. No more waiting, no more wondering—Disney Plus is here to sprinkle some pixie dust into your streaming experience.
But wait, how do you get Disney Plus on Roku? It's pretty simple. Without wasting any time, let's explore the details and find out how to access shows and movies from Disney's vast content library right from the comfort of your Roku device.
How to Get Disney Plus on Roku
To unlock a world of classic Disney content and thrilling originals, you only need to head over to the Roku Channel Store and download the Disney Plus app. However, bear in mind, that Roku refers to apps as channels. So, installing the Disney Plus channel is essentially the same as installing the Disney Plus app on other platforms.
Here's what you need to do:
From your Roku home screen, locate and select either "Streaming Channels" or "Search" to begin the process.
Type "Disney Plus" in the search bar and choose the Disney Plus app from the search results.
Once you've found the Disney Plus app, select "Add Channel" to begin downloading.
Sit tight while the app is being downloaded. Once the installation is complete, you can either select "Go to channel" to open it immediately or press the Home button on your Roku remote and locate the Disney Plus app on your home screen.
Next, it's time to sign in to your Disney Plus account. If you haven't subscribed yet, follow the instructions to sign up for a new subscription.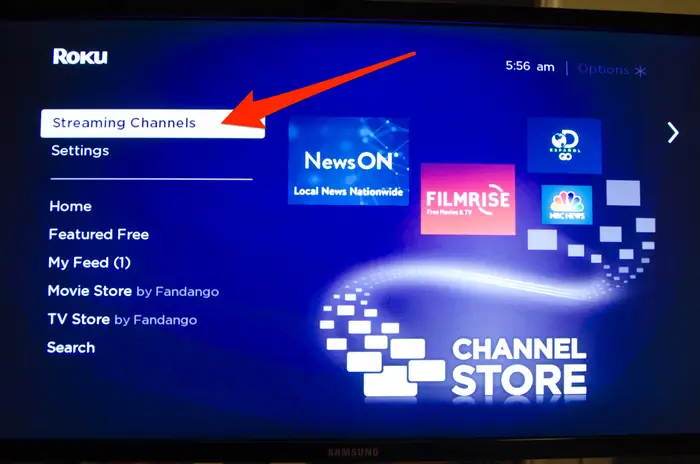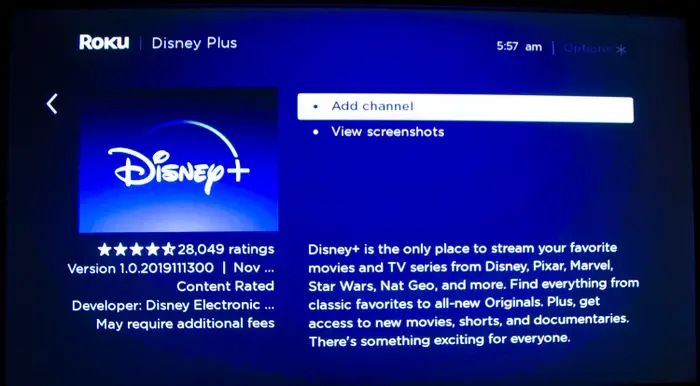 Once you've successfully logged into your Disney Plus account, you're all set to dive into the magic of Disney! You can start streaming your favorite shows and movies right away. To access Disney Plus in the future, simply select the Disney Plus app on your Roku home screen without signing in again.
How To Get Disney Plus on Roku via Roku Website
If you prefer to add Disney Plus to your device through the Roku website, all you need to do is follow these steps to get started:
Begin by visiting the Roku website and logging in to your Roku account if prompted to do so.
Look for the "Roku Channel Store" option and click on it. Once in the Channel Store, you can access various channels to enhance your streaming experience.
Near the top of the page, you'll find a search bar labelled "Search channels." Type in "Disney Plus" and hit Enter or click the magnifying glass icon to initiate the search.
Among the search results, locate "Disney+" and select it to view more details about the channel.
On the Disney Plus channel page, select "Add Channel." If you're not already logged in to your Roku account, you'll be prompted to do so now. After signing in, click "Add Channel" again to confirm the installation. You'll notice a message indicating that the channel is being downloaded, and once it's finished, it will be marked as "Installed."
When you turn on your Roku device, the Disney Plus app should appear on your device's home screen, ready for you to enjoy all the Disney magic it has to offer.
Is Disney Plus Available on all Roku Devices?
Disney Plus is widely available on most Roku devices, ensuring users enjoy a vast array of Disney content. However, it's important to note that some older devices are incompatible with Disney Plus. If you happen to own one of the following Roku devices, you may encounter limitations:
Roku Streaming Stick models 3400X and 3420X
Roku LT models 2400X and 2450X
Roku 2 HD models 3000X and 3050X
Roku 2 XS model 3100X
Roku HD model 2500X
To determine which Roku device you have and whether it supports Disney Plus, follow these steps:
Navigate to your Roku device's home screen.
Select "Settings" from the menu.
Choose "System" and then "About."
On the "About" screen, you'll find information about your Roku device, including the model number. If the model number does not match any of the devices listed above, it should be compatible with Disney Plus.
What Shows and Movies are Available on Disney Plus with Roku?
Disney Plus offers an incredible range of content that spans various beloved franchises. The service has something for everyone. There are Disney's classic animations, including Kizazi Moto, to Pixar's heartwarming tales. Not to forget, Marvel's epic superhero adventures and informative National Geographic documentaries, like Sharkfest.
For those who like to watch diversity on screen, Disney Plus has you covered too! You can watch shows like Revenant Kdrama, Yuzuru Special Edition, and The Night Manager.
And for those craving a nostalgic journey, all the Avengers films are available on the platform, allowing fans to relive the stories of their favorite Marvel characters. This sure asks for a Marvel movie marathon in chronological order.
Additionally, Star Wars fans have a special treat in store with the acclaimed series, The Mandalorian, which takes you on a thrilling adventure in the Star Wars universe. And with Secret Invasion in the library, the excitement for Star Wars content on Disney Plus continues to grow.
FAQs
Why can't I get Disney Plus on Roku?
If you cannot locate Disney Plus on your TV, it's likely due to compatibility issues with older devices. Unfortunately, this means that you won't be able to add the Disney Plus channel to your TV. Additionally, it's worth considering that Disney Plus may not be available in your location, which could explain its absence on your Roku device.
How much does Disney Plus cost?
Disney Plus has two options: Disney Plus Basic with ads which costs about $7.99/ month and Disney Plus Premium with no ads which costs $109.99/year.
How can I add Disney Plus to my Roku device?
To add Disney Plus to your device, you can either go to the Roku Channel Store on your Roku device and search for Disney Plus or visit the Roku website and add the channel to your device remotely.
Summing Up
Now that you have the inside scoop on how to get Disney Plus on your Roku device, it's time to set out on an unforgettable streaming journey. Whether you're craving the timeless classics from Disney's animated vault, the thrilling adventures of Marvel superheroes, the epic tales from the Star Wars galaxy, or the fascinating documentaries from National Geographic, Disney Plus has you covered.
Following the simple steps, you can easily download and install the Disney Plus app on your Roku device. From there, a whole new world of entertainment awaits you, with a vast catalogue of movies and TV series just waiting to be discovered.