Amazon Prime is a subscription service offered by Amazon that includes video streaming as one of its perks. It offers a wide range of entertainment options that are far from dull. Additionally, Amazon Prime has an exceptional selection of exclusive Amazon Prime video movies and TV shows that are unavailable elsewhere, such as The Power, Shetland, and Boundless.
We completely understand if you've reached a point where you're considering to cancel your Amazon Prime subscription due to the Prime video cost involved. In this article, we aim to address your primary concern.
Cancel Amazon Prime Membership
To cancel your Amazon Prime membership, the most effective method is as follows:
Open the Amazon Prime app on your PC.
Locate the "Manage Membership" option situated in the top right corner.
Lastly, click on the "End Membership" button to finalize the cancellation process.
On a web browser
Follow the below steps to cancel your Amazon Prime subscription on a web browser.
Sign in to your Amazon account and position your cursor on the top-right corner of the screen.
Navigate to "Accounts & Lists" and select "Your Prime Membership."
On the page that appears, you will find details about your Amazon payments, your preferred payment card, and the upcoming payment date. Additionally, you will see information about your Prime membership, the subscribed service channels, and an option to cancel your membership.
On the left side of the page, locate and click on "End Membership and Benefits." If you are currently on a Amazon prime free trial, the option will be labeled as "End Trial and Benefits."
Scroll down to the bottom of the page and click on the "I Do Not Want My Benefits" button.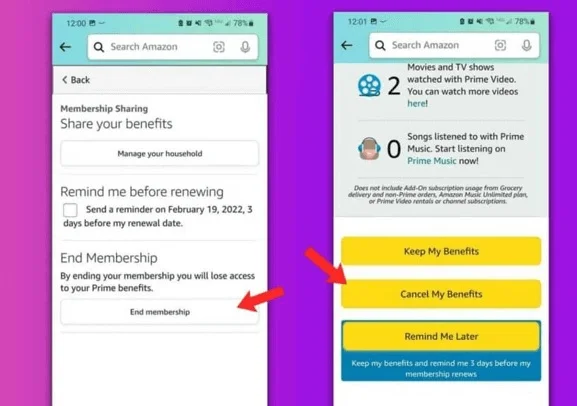 Proceed by clicking on "Continue to Cancel" and then "Cancel Membership." You will encounter two subsequent screens that will confirm your decision to cancel your Prime membership. Amazon ensures that you have made a fully informed choice to terminate your Prime account membership.
On the Mobile App
Canceling your Amazon Prime Membership using the mobile app is a straightforward process. Here's a step-by-step guide:
Launch the Amazon app on your mobile device and tap the menu button.
A menu will appear, and you should select "Your Account."
Navigate to "Account Settings" and choose "Manage Prime Membership."
Log in to your Amazon account using your credentials.
Scroll down the page and click on "End Membership." If you are currently on a free trial, you'll see the option to tap "End Trial" at the bottom.
Select "Cancel my benefits." At this point, you can decide whether to click on "End Now" or select "End on (date)" to schedule the cancellation of your membership.
Refund After Canceling Amazon Prime
If you decide to cancel your Amazon Prime membership, the refund policy depends on your usage of the benefits and the duration of your membership:
If you have paid for your Prime membership but have never utilized any of the benefits, you are eligible for a full refund as an Amazon customer.
Similarly, if you were previously on a free trial and transitioned to a paid Prime membership but did not use any benefits within three business days, you are eligible for a full refund.
However, if you have used some of the benefits during your membership, the refund will be partial and based on the remaining time left in your subscription.
Upon canceling Amazon Prime Subscription, a refund should be processed automatically. However, it is advisable to contact Amazon customer service to ensure the refund is applied correctly.
FAQs
Can I cancel my Prime membership at any time?
If you signed-up for your Prime membership directly through us, you may cancel your Prime membership any time by visiting Your Account and adjusting your membership settings.
Can I cancel my Amazon Prime membership and get a refund?
If you cancel a monthly Prime membership, the membership fee will be refunded only if you have not made any eligible purchases or taken advantage any of the Prime benefits since your latest Prime membership charge.
Can I cancel Prime membership after free trial?
Yes. Log on to your account at Amazon. Click on Accounts & Lists and click on cancel free Prime. They will then give you a 2-3 day window to notify you of your free trial being canceled.
Conclusion
If you've made the decision to cancel your Amazon Prime membership and no longer require the delivery benefits and eligible purchases, it's important to follow the outlined steps. To ensure a smooth cancellation process, it is recommended not to wait until the last day of your membership's validity. Failure to cancel in time may result in automatic renewal and subsequent charges.
However, if you encounter any difficulties or have questions during the cancellation process, feel free to reach out to Amazon customer service. They can provide guidance and assistance regarding the cancellation or any potential refund related to your Amazon Prime membership.