Grab your popcorn and get ready to dive into the wild and wacky world of South Park, filled with laughter and the moments that will leave you saying, "Oh my God!". The animated series is a hilarious rollercoaster ride, filled with colorful characters and outrageous adventures. It is certainly not an easy task to narrow down the best South Park episodes, as the show comes with 25 seasons and counting, with over 300 episodes.
There's surely a lot to choose from, however, we have tried our best to bring out the best offerings from the creators Trey Parker and Matt Stone.
So, read on for a detailed guide about the best South Park episodes, that you can watch on platforms like Fubo TV.
Where can I watch the best South Park episodes?
If you're in a mood to binge-watch some of the most hilarious and best South Park episodes, you can watch them on Fubo TV. However, you can also purchase or rent South Park episodes on platforms like Amazon Instant Video, iTunes, Google Play, and Vudu.
Also read: Best animated shows on Amazon Prime
Since its debut in 1997, South Park has maintained a reputation as one of the most highly praised animated series. Its consistent critical acclaim has been a testament to its enduring popularity and quality.
What is the South Park series all about?
South Park certainly isn't just your average cartoon. Created by Trey Parker and Matt Stone, the show is a clever and satirical take on pop culture, politics, and everyday life.
The unique animation style and witty humor will make you laugh, simultaneously tackling controversial topics and pushing boundaries. From aliens and talking turkeys to zombie outbreaks and celebrity parodies, this show has it all.
South Park centers around the lives of four boys, Stan, Kyle, Cartman, and Kenny—who live in a small mountain town in Colorado. The show primarily focuses on their hilarious and often controversial adventures as they navigate through childhood, school, and various absurd situations. It amalgamates the elements of politics, pop culture, and other societal issues, along with a blend of humor to entertain audiences with its clever and witty storytelling.
Also read: Best Animated Shows on Netflix
10 Best South Park episodes; Let's dive in!
Narrowing down the episodes of this captivating series was a challenge, but we've selected the best ones for you to enjoy. Get ready to embark on a hilarious journey as you dive into the 10 best South Park episodes.
1. 'AWESOME-O' (Season 8, Episode 5)
For 21 seasons, Cartman has been teasing Butters, but sometimes his plans are so complex that they are impressive. In the episode 'AWESOM-O,' Cartman pretends to be a robot friend to uncover Butters' secrets, but he ends up finding embarrassing material of his own. The episode becomes more exciting when Butters takes AWESOM-O to Los Angeles, where the robot's abilities are used to pitch movie ideas.
We enjoy the funny moments when Cartman shouts "lame" in his cardboard robot suit and when the US Army takes him to be reprogrammed as a weapon. It's a ridiculous but favorite episode.
2. 'You Have 0 Friends' (season 14, episode 4)
Kip Drordy is a very sad and lonely character in South Park, which makes him funny. Stan is forced to create a Facebook profile, and it becomes a nightmare for him as he gets stuck in a virtual world of thumbs-ups and likes. Meanwhile, Kyle adds Kip as a friend out of pity, but others reject him because of that choice.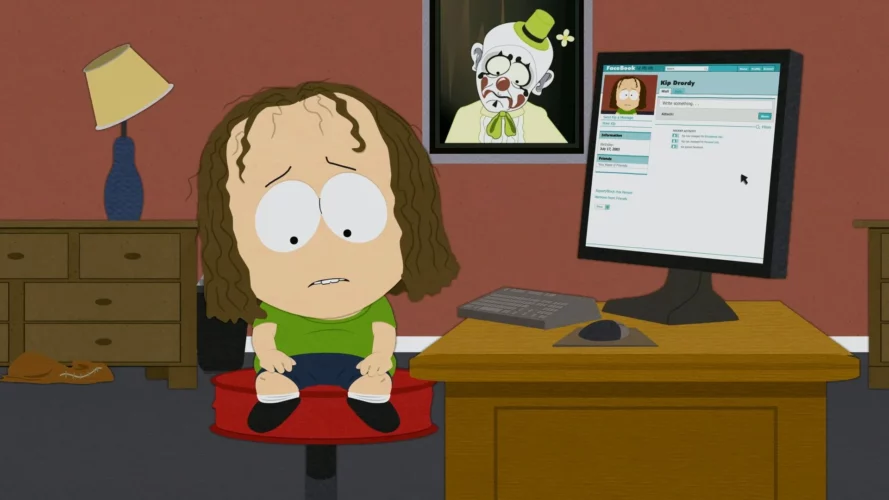 The episode, released in 2010, cleverly predicts the power of social media while also making fun of its silly parts, like Chat Roulette. The fact that the episode ends on a positive note is even more impressive.
3. 'Scott Tenorman Must Die (season 5, episode 4)
Trey Parker and Matt Stone consider this Lord of the Rings parody episode one of their best, and it's hard to disagree. Stan, Kyle, and Cartman accidentally get a kinky video instead of their Fellowship of the Ring one during cosplay.
Butters is affected by seeing Stan's parents' adult movie and becomes obsessed, ending up mumbling like Gollum. The parents' attempt to explain the video to their sons is quite awkward and cringe-worthy.
4. 'The Losing Edge' (season 9, episode 5)
In 'The Losing Edge,' the kids of South Park team up to intentionally lose baseball games. Their opponents try to do the same, leading to exciting sequences. Meanwhile, Randy, Stan's dad, competes with Bat Dad in the drunk dad baseball spectator scene, resulting in the South Park Cows getting banned from the league, which delights Stan.
5. 'Best Friends Forever (season 9, episode 4)
In 'Best Friends Forever,' Kenny becomes addicted to a new gaming device, but sadly, he dies as is typical for him. After talking to God, Kenny is brought back to life but kept on life support. This causes a media frenzy and a debate about his right to die, paralleling a real-world case that made the episode controversial and both funny and heartbreaking.
6. 'Super Fun Time' (season 12, episode 7)
In South Park's take on Die Hard, Butters and Cartman team up once again. Mr. Garrison takes the class to Pioneer Village, where they get caught up in a strange hostage situation. Meanwhile, Cartman takes Butters to an arcade, and when they see police cars at Pioneer Village, they think they're in trouble and sneak back in.
Seeing Butters dragging Cartman's unconscious body adds to why this episode is considered one of the best.
7. 'Grounded Vindaloop' (season 18, episode 7)
In 'Grounded Vindaloop,' South Park humorously explores technology, including call center employees and the Matrix. The episode focuses on the funny dynamic between Cartman and Butters. Butter's unconventional use of virtual reality and the annoying call center employee, Steve, add to the humor.
The twist ending in this sci-fi parody sets it apart and makes it one of the best South Park episodes with a slick and clever execution.
8. 'White People Renovating Houses' (season 21, episode 1)
In 'White People Renovating Houses,' South Park tackles a new technological trend. Randy and Sharon Marsh have a TV show about renovating homes, while Cartman becomes obsessed with his Amazon Echo, amusing his friends with childish phrases and swear words.
To address the concerns about job loss due to such technology, Randy tries to replace the gadgets with unemployed townspeople, but it doesn't go as expected.
9. 'Guitar Queer-O' (season 11, episode 13)
In this episode, Parker and Stone poke fun at the Guitar Hero video game series when the main gang, including Stan and Kyle, become rock star celebrities after setting a record.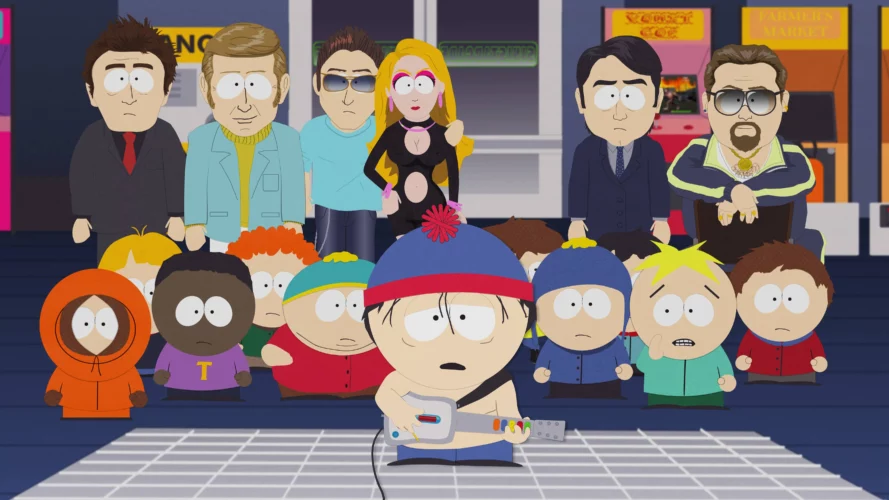 Stan's manager encourages him to drop Kyle and team up with a kid named Thad, who excels at the game. As Stan gets hooked on the game "Heroin Hero," the episode mocks the rock-and-roll lifestyle and obsessive gamers who chase points.
10. 'Black Friday' (season 17, episode 7)
In the seventh episode of the 17th season, Parker and Stone satirize the consumer madness of Black Friday.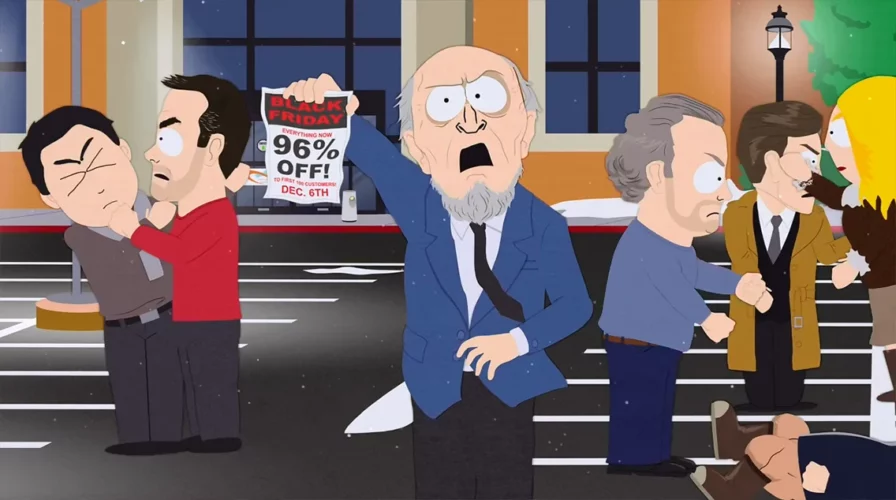 The episode is the first of a three-part arc that pays homage to Game of Thrones and shows how far people will go for the best Black Friday deal. The children of South Park split into two groups, Xbox One fans, and PlayStation 4 fans, trying to recruit the undecided to join their cause and get the gaming console they want.
Wrapping up!
Get ready for a wild and unforgettable experience with the best South Park episodes! This animated gem will keep you laughing, thinking, and questioning the world around you. Join Stan, Kyle, Cartman, and Kenny as they embark on their hilariously outrageous escapades that have made South Park a timeless classic and an absolute must-watch for anyone seeking witty humor with a fearless edge. Grab your popcorn and watch the best South Park episodes today!