Love Island, the popular reality show filled with glam, grafting, and romantic drama, is set to return for its highly anticipated 10th season. ITV has begun unveiling details about the initial group of contestants of islanders who will be entering the villa.
Start Date of the new summer series is scheduled to kick off on Monday, June 5.
Maya Jama's Return: After impressing viewers as the host of the winter edition earlier this year, Maya Jama will be back to guide the contestants through their Love Island journey once again.
Winter Winners: The previous season, filmed in South Africa, crowned Kai Fagan and Sanam Harrinanan as the winners of Love Island.
Contestant Training: In line with the show's duty of care procedures, all participants in the 2023 summer series will receive comprehensive video training and guidance. The training covers various topics, including respectful behavior in relationships, identifying controlling and coercive behavior, and addressing language related to disability, sexuality, race, ethnicity, and microaggressions.
Ruchee Gurung
| Name | Ruchee Gurung |
| --- | --- |
| Age | 24 |
| From | Sutton |
| Occupation | Beautician |
| Instagram | @rucheewawo |
Ruchee Gurung describes herself as a "relationship kind of girl" but hasn't had much luck in that department so far. Known for her caring nature, she expresses love through gift-giving. However, she has two major fashion turn-offs: guys with no ambition and those sporting white jeans and red trainers. Ruchee is looking for a genuine connection on Love Island.
George Fensom
| Name | George Fensom |
| --- | --- |
| Age | 24 |
| From | Bedford |
| Occupation | Business development executive |
| Instagram | @georgefensom |
George Fensom is ready to make an impression with his charm and sense of humor in the Love Island villa. As a self-proclaimed life of the party, he is always up for a dance and brings a vibrant energy wherever he goes. George hopes to meet a girl who can match his banter and add even more excitement to their time together. Get ready for some fun and laughter with George in the villa!
Catherine Agbaje
| Name | Catherine Agbaje |
| --- | --- |
| Age | 22 |
| From | Dublin |
| Occupation | Commercial real estate agent |
| Instagram | N/A |
Catherine Agbaje is a vibrant and outgoing islander who is always seen with a smile on her face. She loves to engage in conversations and is known for her friendly and happy disposition. Catherine takes pride in her natural teeth and wants everyone to know that they are not veneers.
Her academic achievements include degrees in Psychology & Sociology as well as Real Estate, showcasing her intelligence and ambition. Get ready for Catherine to bring positivity and enthusiasm to the Love Island villa!
Mehdi Edno
| Name | Mehdi Edno |
| --- | --- |
| Age | 26 |
| From | Bordeaux/London |
| Occupation | Communications manager |
| Instagram | @mehdiedno |
Mehdi Edno is a charismatic islander with a unique charm. He knows how to capture attention by simply speaking French, which often piques the interest of others. Mehdi believes that while looks are important, they are not everything. He values a good sense of humor and an adventurous spirit in a partner.
With his communication skills and magnetic personality, Mehdi is sure to make a lasting impression in the Love Island villa. Keep an eye out for his intriguing conversations and joie de vivre!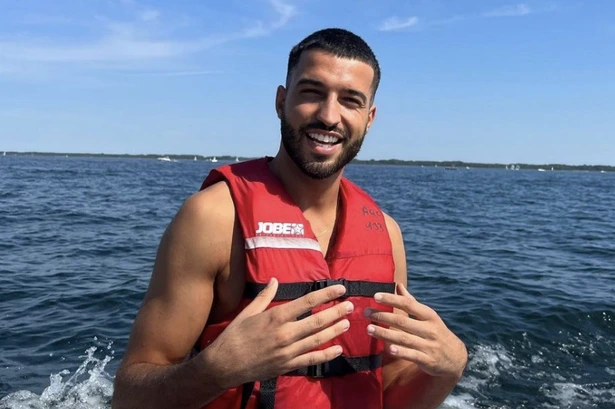 Molly Marsh
| Name | Molly Marsh |
| --- | --- |
| Age | 21 |
| From | Doncaster |
| Occupation | Musical theatre performer and social media creator |
| Instagram | @mollygracemarsh |
Molly Marsh is a 21-year-old islander hailing from Doncaster. She describes herself as old-fashioned and prefers the traditional approach of meeting someone in the Love Island villa rather than relying on dating apps.
With a background as a musical theatre performer and a social media creator, Molly brings a creative flair to the table. She comes from a unique setting, living on a farm with her extended family and even chickens. Get ready to see Molly embrace the love and drama of the villa as she navigates her way through the journey to find a connection.
Tyrique Hyde
| Name | Tyrique Hyde |
| --- | --- |
| Age | 24 |
| From | Essex |
| Occupation | Semi-professional footballer |
| Instagram | @tyriquehyde |
Tyrique Hyde, a 24-year-old islander from Essex, is a semi-professional footballer. Tyrique has a unique characteristic as he is deaf in his right ear, but that hasn't hindered his confidence or determination.
In fact, he has a tattoo near his left ear that symbolizes strength and power. Tyrique shares a close friendship with former Love Island star Toby Aromolaran, and their bond is something he cherishes. With his fearlessness and go-getter attitude, Tyrique is ready to make his mark in the Love Island villa and pursue the connections he desires.
Ella Thomas
| Name | Ella Thomas |
| --- | --- |
| Age | 23 |
| From | Glasgow |
| Occupation | Model |
| Instagram | @ellathomas_ |
Ella Thomas, a 23-year-old islander from Glasgow, is a model who exudes confidence and knows exactly what she wants in life. She considers herself "wifey material" and believes she has a big heart to offer to her potential partner.
Ella has already made some noteworthy appearances in the entertainment industry, having been featured in a music video with artists Headie One and Burna Boy. Additionally, she had an exciting experience as an extra in the film World War Z, where she had the opportunity to meet the renowned actor Brad Pitt.
With her striking looks and magnetic personality, Ella is set to turn heads in the Love Island villa.
Mitchel Taylor
| Name | Mitchel Taylor |
| --- | --- |
| Age | 26 |
| From | Sheffield |
| Occupation | Gas engineer |
| Instagram | @mitcheltaylor_ |
Mitchel Taylor, a 26-year-old gas engineer from Sheffield, believes in the power of chivalry and considers himself a true gentleman. He takes delight in showering his partner with thoughtful gestures like flowers and planning romantic dates.
Mitchel prides himself on being attentive and caring. However, he does have a discerning eye and specific deal-breakers. Mitchel is in search of a connection with someone who shares his values and appreciates his efforts to create a memorable and romantic experience.
Jess Harding
| Name | Jess Harding |
| --- | --- |
| Age | 22 |
| From | London |
| Occupation | Aesthetics Practitioner |
| Instagram | @jesshardingox |
Jess Harding, a 22-year-old aesthetics practitioner from London, has strong opinions when it comes to dating. She finds it unappealing when guys show off their wealth and designer clothes, as she believes they are often fake.
Additionally, she's not a fan of boys who miss the train or bring a lunch box instead of opting for a convenient meal deal from Tesco. Jess prides herself on being a fantastic girlfriend, thanks to her vibrant personality and a heart full of compassion. Her big personality adds a spark to any relationship, making her a valuable catch in the Love Island villa.
Andre Furtado
| Name | André Furtado |
| --- | --- |
| Age | 21 |
| From | Dudley |
| Occupation | Business owner |
| Instagram | @dre.furtado |
André Furtado, a 21-year-old business owner from Dudley, is a true believer in love at first sight. He can't help but fall head over heels for beautiful ladies, often finding himself planning weddings before even saying hello.
André exudes enthusiasm and is always passionate about the pursuit of love. With his optimistic outlook and captivating charm, he's sure to make an impression on the Love Island villa.
Wrapping It Up
The upcoming season of Love Island in Australia promises to be filled with excitement, romance, and unforgettable moments. The initial batch of islanders brings a diverse range of personalities and backgrounds to the villa, each with their own unique charm.
From the caring and gift-giving Ruchee to the charismatic and banter-loving George, and from the outgoing Catherine with her infectious laughter to the French-speaking Mehdi, the stage is set for sparks to fly and connections to form. Molly adds a touch of old-fashioned romance, while Tyrique's friendship with former Islander Toby brings an intriguing dynamic.