Megan Barton-Hanson's abrupt departure from Love Island Games on Peacock TV has been a topic of much discussion among fans of the reality TV series. Known for her memorable appearance in the fourth season of Love Island: UK, Megan's sudden exit from the latest series raised questions and concerns. Why did Megan leave Love Island Games? This article explores the reasons behind her departure, offering insights into her journey on the show and her health struggles.
What do we know about Love Island Games?
Debuting on November 1, Love Island Games has been captivating audiences on Peacock every Sunday through Friday. Returning with familiar faces such as Justine Ndiba, Cely Vazquez, Imani Wheeler, and more, the show offers a delightful overdose of entertainment. Love Island Games brings together beloved contestants from the British, Australian, and American versions of Love Island, providing them with a second chance at love in an all-new competitive format. Moreover, you can watch Love Island Games outside USA as well, with some very simple steps.
This fresh iteration introduces a blend of romance and reality on Peacock TV, challenging the fan-favourite islanders with team and couples' challenges, dating scenarios, eliminations, recoupling, and unexpected twists, promising an exhilarating experience for both the contestants and viewers alike. Moreover, you can also avail Peacock TV free trial, to explore through the platform. Check out the best pricing plans for Peacock, to subscribe today and enjoy the show!
Megan's Impact on Love Island Games
Megan Barton-Hanson, known for her strong presence and candid nature, entered Love Island Games with a bang. Her initial coupling with Steph Blackos and later involvement with Kyra Green from Love Island USA marked her as a significant player in the villa's ever-changing dynamics. Megan's approach to relationships and her straightforward demeanor made her a standout contestant.
The Eyal Booker Factor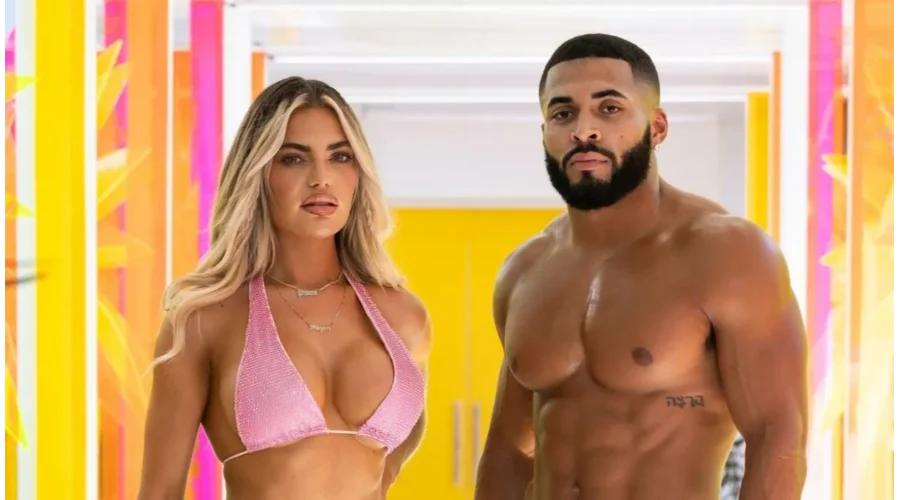 The entry of Eyal Booker, Megan's ex-boyfriend from Love Island: UK, into the villa added a layer of complexity to her journey. Their past relationship and subsequent interactions in the villa sparked intrigue and drama, particularly affecting Megan's connection with Kyra. This phase of the show was marked by heightened emotions and a sense of unpredictability.
Check this out: 'Love Island Games' Introduces a Fresh Twist for Love Island Fans
Why did Megan suddenly leave Love Island Games?
In a surprising turn of events, Megan faced an unexpected decline in her health, which ultimately led to her abrupt exit. The announcement of her departure was delivered by the show's narrator, Iain Stirling, who cited medical reasons as the cause. He made this announcement on November 12 episode. The revelation sent shockwaves through both her fellow contestants and the viewers, generating a mix of concern and astonishment. The specifics surrounding Megan's health issues and the impact on her journey within the show added an element of mystery. Moreover, it heightened emotions to the unfolding narrative.
Megan's Openness About Her Health
Following her exit, Megan took to social media to share her health struggles with her followers. She revealed that she had been battling pelvic inflammatory disease, a condition unfamiliar to her until then. The severity of her symptoms, including intense pain and fever, was such that it necessitated her departure from the villa. On a post on Instagram, she wrote:
"I'd never heard of it, but think I may have had my first experience. I've not had pain/fever quite like it. The last 5 days have been hell… If you have good Essex/London-based gynecologist recommendation, please let me know, or any tips or remedies for the pain and to stop it from reoccurring"
The Reality of Reality TV
Megan's departure from Love Island Games highlights the often-overlooked aspect of reality TV – the physical and mental well-being of the contestants. While the show is known for its entertainment value and dramatic plotlines, the participants' health and safety remain paramount. Megan's situation brought this to the forefront, reminding viewers of the real-life implications behind the on-screen drama.
Fan Reactions and Support
The news of Megan's health issues and her subsequent departure from the show elicited a wave of support from fans. Many praised her for her courage in openly discussing her health struggles and for prioritizing her well-being over the game. Her honesty and vulnerability resonated with viewers on Reddit, many of whom expressed their well-wishes for her recovery.
What's the wrap?
Megan Barton-Hanson's exit from Love Island Games was more than just a dramatic twist in the series. It was a stark reminder of the realities faced by reality TV stars. Her journey on the show was marked by strong connections and emotional upheavals. However, it was cut short by a health crisis that she bravely confronted. As fans and viewers reflect on her time in the villa, Megan's story and the reason why did Megan leave Love Island Games serves as an important narrative about the importance of health and the human aspect behind reality television.