If you're into reality TV programs like The Traitors, you'll love Rise and Fall! The show is brought to you by the same creators and features Greg James as the host. Watch Rise and Fall at 9 p.m. on Channel 4 from March 19, 2023, as in this gripping competition, Sixteen regular individuals go head-to-head to climb to the top and earn up to £100k. Do they have what it takes to make it to the top? Get ready to witness some thrilling power-play and find out!
Quick Steps: How to Watch Rise and Fall online
Follow these simple steps to watch Rise and Fall
Download a reliable VPN [we recommend ExpressVPN OR NordVPN as it provides exceptional streaming experience globally]

Download and install ExpressVPN app!

Connect to a server in the UK

Login to Channel 4

Enjoy watching your favorite content on Channel 4
What is the release date of the reality TV show Rise and Fall?
The new reality TV show Rise and Fall will grace our screens on Sunday, March 19, 2023, only on Channel 4 at 9 p.m.
Where to watch Rise and Fall online?
Starting on March 19, 2023, the television program Rise and Fall, a reality TV show, will premiere on Channel 4. Channel 4 is solely accessible in the United Kingdom, and its programming is limited to complying with UK distribution rights and copyright laws. Hence, one must use a VPN to link to a UK server to watch Channel 4 or the streaming service All 4 from outside the UK.
What is the reality TV series Rise and Fall about?
This new reality TV series is exciting and includes drama, betrayal, teamwork, and strategic maneuvering elements. 16 Players will have the chance to experience highs and lows as they face various challenges. The decisions made by those in power will significantly impact everyone else. Winning requires significant power and influence; only capable individuals can achieve this feat.
Who will ultimately emerge as the champion and maintain their position? Do they possess the qualities of an influential leader, such as strategic thinking and competitiveness? Are they willing to go to any lengths necessary to win? Tune in on Channel 4 on March 19 as it's time to show the world their talents and prove their mettle!
Who is the host of Rise and Fall?
Greg James will host the new reality TV show on Channel 4, Rise and Fall. He is a British author and media personality who presents the morning show on BBC Radio 1. He also co-hosted the cricket podcast Tailenders with Felix White and James Anderson and collaborated with Chris Smith to create the book series Kid Normal.
What is the plot of the Rise and Fall reality TV series?
Sixteen contestants from diverse backgrounds and ages will start on equal footing but soon find themselves in either a powerful position as a "ruler" or a powerless position as a "grafter." The "grafter" group will reside in a basement powerless, while the "rulers" will live in a luxurious penthouse. The grafters will undertake physically challenging games and tasks to build a cash prize fund, which only the rulers can claim.
The rulers are responsible for motivating the grafters to work harder, but they risk losing their power if they become too pushy. The other participants determine the fate of each player's rise or fall in power. The game will culminate in only one ruler having the chance to win the prize. The show will also feature the "Rise and Fall lift," which will transport players between the top and bottom levels.
What does host Greg James has to say about the reality TV show?
"I've been waiting a long time for a show like this to come along that I can get stuck into and be the ringleader of. It's an amazingly mad idea and the contestants are going to make some incredible TV. Let the power struggle begin…"

– Greg James
Rise and Fall official trailer
What is the winning prize of Rise and Fall?
Rise and Fall is a new reality TV program developed by the same team who made the successful BBC One series, The Traitors. The show will feature various participants, such as a trainee nurse, a care home manager, an account manager from one of Britain's oldest aristocratic families, and a member of the Young Conservatives, competing against each other for a chance to win a grand prize of £100,000.
Contestants of the Rise and Fall
Here is the contestant list: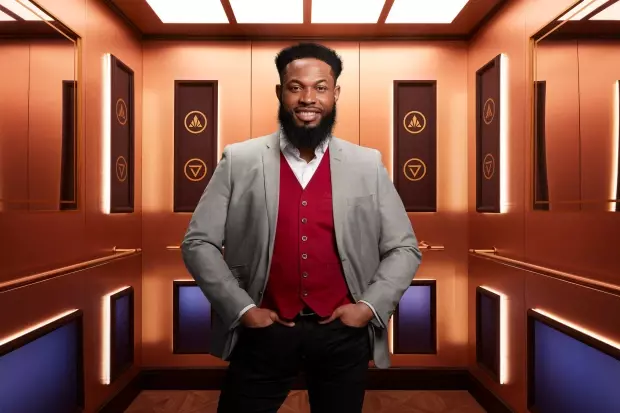 | | | | |
| --- | --- | --- | --- |
| Contestants Name | Age | Profession | Hometown |
| Ali | 45 | Entrepreneur | Essex |
| Cheryl | 40 | Trainee nurse | Liverpool |
| Connor | 27 | Care home Manager | Kent |
| Edmund | 27 | Account Manager | Devon |
| Jack | 28 | Builder | Hertfordshire |
| James | 26 | Employment Coach | Newport, South Wales |
| Jeff | 69 | Entrepreneur | London |
| Joanna | 50 | Interior Designer | Suffolk |
| Marina | 18 | Receptionist | London |
| Matt | 32 | Nurse | The Midlands |
| Prince | 39 | Postal worker | Hertfordshire |
| Rachel | 27 | Influencer | London |
| Ramona | 34 | CEO | London |
| Rishika | 26 | Communications Officer | Birmingham |
| Sophie | 21 | Politics student | Essex |
| Sydney | 24 | Delivery driver | West Lothian, Scotland |
What is Rise and Fall's rating?
| | |
| --- | --- |
| Rise and Fall IMDB | N/A |
| Rise and Fall Rotten Tomato | N/A |
Check out these fan reactions!
What is the total number of Episodes of Rise and Fall?
Rise and Fall is an eighteen-episode series, and each episode will run approximately 60 minutes. The first episode will premiere on Channel 4 on March 19, 2023, at 9 p.m.
What else to watch on Channel 4?
FAQs
Where to stream the episodes of Rise and Fall?
The episodes will be available on Channel 4's streaming platform, All 4, after their premiere on Channel 4.
What is the genre of Rise and Fall?
Rise and Fall has a genre of reality TV show.
Wrapping it up!
Witness an exciting new reality competition series and watch Rise and Fall as a captivating group of individuals from various backgrounds and lifestyles embarks on a thrilling social experiment that delves into the influence of wealth and power on human behavior. Don't miss out on the opportunity to witness how these factors impact our interactions with each other in this exciting show!