From its inception, the PS4 offered more than just gaming; it provided access to a wide range of streaming services. Netflix, the global streaming giant, recognized the potential and debuted its services on the PS4 right from its launch. Since then, unlocking the world of fantastic movies and series on your PlayStation console has never been easier. If you're wondering how to get Netflix on your PlayStation, you've come to the right place!
We'll guide you through the simple steps to directly bring the popular streaming platform to your PlayStation device. Whether you're a PS4 or PS5 owner, we've got you covered. Let's go!
How to Get Netflix on Playstation (PS4/PS5) in USA?
If you live in the US and want to get American Netflix on PlayStation, the process is fairly simple for you!
Open the PlayStation Store and search for the Netflix app for US residents.
Once you find Netflix, download and install it on your PS4.
After installation, launch the Netflix app and log in to your Netflix account.
Now you can enjoy watching your favorite Netflix content that is available in the US library.
How to Get Netflix on PS4 or PS5 outside USA?
But what do you do if you're not residing within the USA, yet want to view American Netflix on your PlayStation 4 or 5? Don't worry; just follow these simple steps to access Netflix on your gaming console from anywhere:
Subscribe to a VPN service that offers multiple US servers. Our top recommendation is ExpressVPN.
Visit the DNS setup page provided by ExpressVPN and log in using your email and password.
On the home screen, click on the option to register your IP address. You can also choose to register your IP address to monitor any changes automatically.
Visit ExpressVPN's setup page, where you might be prompted to enter your login information again.
After logging in, take note of the IP address for the MediaStreamer DNS server. You'll need this address later, so either write it down or keep the window open.
Using your PS4 or PS5 controller, navigate to the "TV & Video" section.
Check if the "Netflix" app is available. If it is, select it, and the app will launch.
If you can't find the Netflix app, look for a download button and click on it.
To download the Netflix app from the PlayStation Store, press the PS button on your controller and choose "PlayStation Store."
In the "Search" tab, look for Netflix and proceed with the download. Once downloaded, you can start watching American Netflix on your PS4 or PS5 from anywhere in the USA.
How to Get Netflix on PS4 from a PC?
If you want to access Netflix on your PS4 from a PC in the USA, you can do it using a USB drive. All you need to do is follow these steps after downloading the desired video or program:
Install the Netflix app on your PC.
Enter your login details for Netflix.
Search for the application you want to download.
Use a Netflix Video Downloader tool to download the application.
Save the downloaded application on a USB drive.
Now, you can connect the USB drive to your PS4 and enjoy your favorite Netflix shows directly on your gaming console. Please note that using Netflix secret codes to access blocked subcategories only works on browsers. However, you can still access foreign Netflix libraries through a VPN.
How to Install VPN on PlayStation?
If you want to install a VPN on your PS4 and access American Netflix, here is a step-by-step guide. The process may involve some technical aspects, but we have provided detailed instructions to make it easier for you. Here's what you need to do:
Create a DDNS hostname
Visit dynu.com, a third-party service required to set up a DDNS hostname.
Create a new account by providing the necessary details.
Verify your dynu account through the email sent to you.
Log in to your dynu account using the provided username and password.
Access the DDNS services section and click on the "add" button.
Create your desired hostname (e.g., "john.dynu.com") and click "add."
On the next page, uncheck "Wildcard Alias" and "Enable IPv6 Address," then click "save."
Configure Dynu with ExpressVPN
Go to ExpressVPN.com and sign in to your account.
Click on "My Account" and enter your credentials (email and password).
Access the DNS settings and scroll down to the Dynamic DNS Hostname section.
Enter your dynu hostname (e.g., "john.dynu.com") and click "save hostname."
The word "Updated" should appear on your screen, indicating a successful connection between ExpressVPN and your dynu hostname.
Configure DNS on your PS4
Return to the "My Subscription" page on ExpressVPN.com and click on the "set up ExpressVPN" button.
Select "PlayStation" on the left side of the screen.
Note down the DNS server IP address displayed on the right side of the screen.
Turn on your PS4 and access the settings menu.
Navigate to "Settings" > "Network" > "Setup Internet Connection."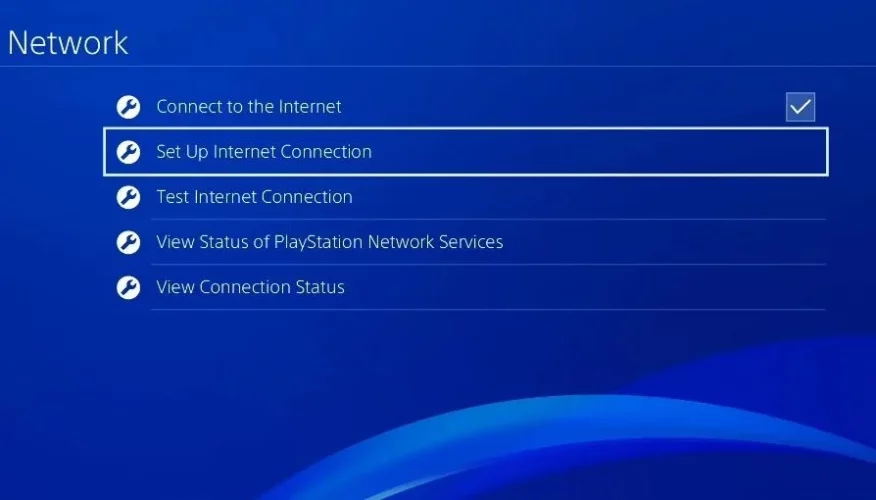 Select either Wi-Fi or LAN as your network.
When asked how you want to set up the internet connection, choose "Custom."
For IP address settings, select "Automatic."
For DHCP hostname, select "Do not specify."
In the DNS settings, select "Manual" and enter the IP address obtained from the ExpressVPN website.
After entering the IP address, click "Done" and then "Next."
Select "Automatic" for MTU settings.
For proxy servers, choose "Do Not Use."
A message confirming "Internet Settings Updated" should appear on your screen.
Test your internet connection and restart your PS4.
Congratulations! You can now enjoy watching American Netflix on PlayStation using the installed VPN.
Netflix not working on PS4 – Enable HDCP Error Message
To resolve the HDCP error message while attempting to run the Netflix app on PlayStation, follow these steps: navigate to Settings > System > and enable HDCP. By doing so, the problem will be fixed instantly. Netflix displays the HDCP error message to prevent screen recording.
FAQs
Is Netflix free on PS4 and PS5?
Downloading the Netflix app on PS4 and PS5 is completely free of charge. However, to enjoy streaming TV shows and movies, a subscription to the service is required. The basic Netflix plan is available at a monthly cost of $10.99, while the premium plan is priced at $19.99 per month.
Does the Netflix PlayStation app support 4K?
Yes, you may watch Netflix in 4K on the PS4 and PS5, as long as you have a Premium Netflix plan and a minimum internet connection of 25 Mbps.
Can you watch Netflix on your PS4 without Playstation Plus?
Multiplayer gameplay requires PlayStation Plus. It is not required to use the Netflix app on the PS4 or PS5. If you have a PlayStation Plus subscription, you may stream Netflix for free for three months.
Summing Up
The PlayStation has proven its versatility as a gaming console and a reliable streaming partner. With its seamless integration of popular streaming services like Netflix, the PS4 and PS5 have become go-to choices for entertainment enthusiasts.
Following the steps outlined in this article, you can now watch everything on Netflix through PlayStation. From Turkish and war shows to true crime and vampire ones, Netflix has it all! So grab your controller, sit back, and enjoy the best of what Netflix offers, all from the comfort of your beloved PS4/PS5. Happy streaming!