If you are a fan of reality TV shows, true-crime series, nature programs, and cooking shows, you might be interested in signing up for a Discovery Plus free trial. Discovery Plus is a popular video-on-demand (VOD) service offered by the Discovery Channel, featuring a wide range of content from channels such as TLC, Food Network, Animal Planet, and Fixer Upper, among others.
With exclusive programs and availability in over 200 regions and more than 50 languages, Discovery Plus offers a diverse viewing experience. This article will provide details about the available free trial options for Discovery Plus, allowing you to explore the platform without paying a dime.
What Does the Discovery Plus Free Trial Offer?
If you are eager to get a glimpse of the content available on Discovery Plus, consider taking advantage of the free trial options. Let's take a closer look at the trial offers and how you can access them.
Discovery+ 7-Day Free Trial
The official Discovery+ website and app offer a 7-day free trial for all new users. However, the availability of this trial may vary depending on your region. During the trial period, you have unrestricted access to all the content on the platform.
If you decide not to continue with the subscription, you can cancel the trial at any time.
Discovery Plus Free Trial with Amazon Prime Video
Through a partnership with Discovery Plus, Amazon Prime Video provides a 7-day free trial of Discovery Plus to its Prime members. This offer also includes a 30-day free trial of Amazon Prime Video itself. To be eligible for this trial, you must be an Amazon Prime member and have never previously signed up for Discovery Plus.
It's important to note that if you have canceled a previous Discovery Plus trial, your information may already be on file with the streaming platform. The Amazon Prime Video deal offers additional benefits such as Prime Music access, free two-day shipping on Amazon orders, and more.
Verizon Discovery Plus Free Trial Deal
Verizon members have the opportunity to enjoy a six-month free trial of Discovery Plus, making it the most generous trial option available. This offer is exclusively available to subscribers of Verizon's unlimited plans, including Go Unlimited, Beyond Unlimited, Do More Unlimited, Start Unlimited, and Above Unlimited.
Additionally, subscribers to Verizon's Get More Unlimited Plan or Verizon Play More Unlimited can get a one-year trial of Discovery Plus. To access this trial, visit the official Verizon website, log in to your account, navigate to the Account section, choose the Add-ons and apps overview, and click on the "Get it now" button under Discovery Plus.
Cost of Discovery Plus After the Free Trial
After the free trial period ends, Discovery+ offers two affordable pricing plans. The ad-supported plan costs $4.99 per month, while the ad-free plan is priced at $7 per month. Considering the range of content available and the reasonable subscription fees, Discovery Plus is a cost-effective option for nature enthusiasts, reality TV fans, and lovers of non-fiction content.
It can serve as a valuable secondary streaming service to complement platforms like HBO Max, Disney Plus, and Netflix.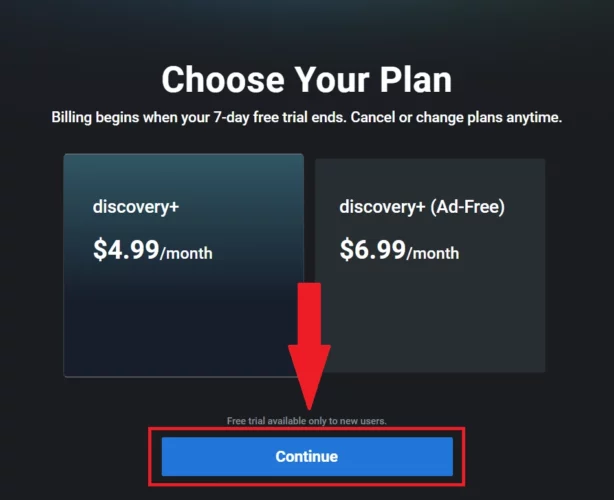 Is Discovery Plus Worth It?
If you have a preference for reality TV shows, nature documentaries, cooking programs, and non-fiction content, Discovery Plus is definitely worth considering. With its affordable pricing plans, it can be a worthwhile addition to your streaming subscriptions.
Whether you use it as a primary or secondary service, Discovery Plus offers a diverse range of content to cater to various interests.
Conclusion
The Discovery+ free trial allows you to experience the platform's offerings before committing to a subscription. By visiting the official Discovery+ website or using Amazon Prime Video's trial offer, you can easily access the free trial without the need for any trial codes.
Take advantage of these trial options and enjoy exploring the vast array of content available on Discovery Plus. Start your Discovery Plus journey today and begin streaming your favorite shows and documentaries.