On The Tonight Show this week, Keanu Reeves, the star of John Wick: Chapter 4, participated in a game of Pup Quiz and Puppardy against Jimmy Fallon. The objective of the game was to answer questions correctly to win a golden retriever, while an incorrect answer would give the other player the dog.
Reeves was not confident about his chances of winning and expressed his concerns, stating that he was not good at the game and that it would probably end in disaster.
There was no need for Reeves to worry, as he performed well in the game of Pup Quiz and Puppardy, with the help of the host Steve Higgins. Reeves answered his first question correctly and won a puppy, while Fallon protested against Higgins' involvement in the game. Fallon then missed his question, giving Reeves ownership of two puppies.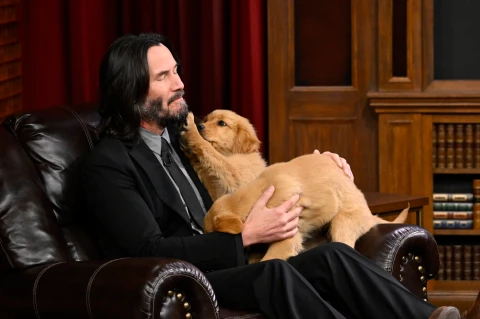 Reeves correctly answered a question in Double Puppardy, earning two more puppies and ending up with a total of four. He celebrated by cheering and expressing his love for puppies.
When one of his puppies went to Fallon, Reeves protested that it was his, indicating his attachment to the puppies he had won.
Fallon missed yet another question, causing Reeves to win more puppies and becoming overwhelmed with joy, as the golden retrievers surrounded him in his chair. Reeves declared himself as the "puppy king" due to his success in the game.